The Wave of the Future of Kidnapping and Assassinations is High Speed Motorcycle Assaults. Are You Ready?
Made Popular by it's effectiveness in Central and South America, Motorcycle Assaults, Kidnapping and Murders have become a global problem that requires very specialized training to be able to spot and defend against.
The Executive Protection Training Institute is the only company offering hands-on simulation training to help defend against High Speed Motorcycle Assaults.
Our real-life scenarios are conducted in real-life settings which help train the attendees not only how to focus on and spot approaching problems but how to seek cover or defend against them.
Our instructors are seasoned professionals with years of experience conducting protective escorts in high-risk areas of the world. They are no-nonsense trainers who have lived through real life and death situations and now offer their expertise to the Protective Service Field.
Whether you are a high-profile person who already has a protection team in place or you are a member of a close protection detail, are your (or your teams) skills up to date enough to deal with a High Speed Motorcycle Assault?
If you answered "NO" then you need to call us and register for our next training seminar.
Phone: US 1-617-542-EPTI
1-617-542-3784
Habbla English
Email: iprotectu@att.net
This Training is Conducted on-site in the Dominican Republic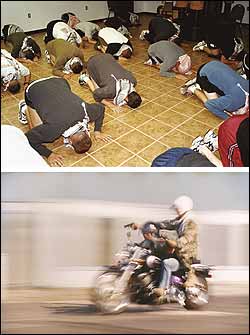 The following is an exerp from a Yemen Newspaper: Waq al-waq formally announces 2010 as the year of the motorbike assassination in Yemen. Seriously, this is getting ridiculous. Today, a security official in Hadramawt (Sayyun, for those wanting details) escaped being gunned down by men on a motorcycle. Riyadh al-Khatabi, the director of security, was seriously wounded according to this report in Mareb Press.
The motorbike jihadis have become such a menace in Yemen that a few weeks ago the government banned them in Zanjibar out of fear of similar attacks. I don't have my full notes handy, but the number of security officials who have been assassinated by men on motorcycles is - if memory serves - nearly 3/4 of the assassinations.

Don't Become a Statistic. Get the Training You Need!